Hengelo, Netherlands: Oct 7, 2022
Eastern Enterprise, a leading IT services, consulting, and business solutions organization, marked the completion of 10 years of partnership with BAS World (previously known as BAS Trucks), a Global trader of commercial vehicles and machinery, which connects buyers and sellers of vehicles worldwide, selling more than 10,000 vehicles every year.
Over the last decade, Eastern Enterprise has worked on key technology initiatives and delivered value across dimensions such as the enterprise agile transformation, data transformation, and digital customer experience; streamlining the business process while migrating from legacy to new technology with micro-services architecture. Developing Safe Deal Portal, Managing Transport and Vehicle Management System for optimizing routes and stock management, Creating Tracker Dashboards for online advertisements and customer preferences, and Developing Optimized Web Portals to enhance the customer experience, have been some of the major breakthroughs made amongst many others.
In the next phase of this partnership, Eastern Enterprise is helping BAS World achieve its vision of revolutionizing the global vehicle trade without any hassle, helping their customer find the right match at a faster rate, to grow profitably, and to drive sustainability and digital inclusion.
"This year we passed the 10-year milestone on our collaboration with Eastern Enterprise. I can't even begin to name all the projects we have worked on together, so I just express my deep gratitude to every Easternaut who contributed to our growth. The product teams in India have proven invaluable to our growth and success. And since we are just at the beginning of the new BAS World chapter I expect there is a lot more to come. Dhanyavaad" said, Marcel Van Leeuwen, Director – Marketing, Product and Tech, BAS World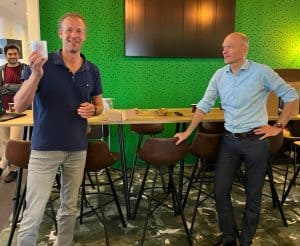 "For more than a decade now, BAS World and Eastern Enterprise have been collaborating to create the best custom build ERP system and websites which are the centre of operations and e-commerce within BAS. This collaboration has continued even post-transition of BAS Trucks to BAS World and the collaboration has expanded with sister company BAS Parts & Tyres. Tight cooperation, an agile workforce and drive to bring the best IT product to market have been the main characteristics why BAS and Eastern Enterprise are a great match" said, Dirk Bekkers, Manager – IT and Finance, BAS Parts & Tyres.
Marco Freriksen, Co-founder, Eastern Enterprise, who's been involved in the BAS World partnership from its initiation said, "It has been a wonderful and inspiring journey which we have been through for over a decade now. Right from the start, there has been a very ambitious mindset and constructive approach to the collaboration. The strong drive for excellence and focus on innovation made it sometimes challenging but always very rewarding".
---
About Eastern Enterprise 
Eastern Enterprise is a technology services company offering expertise in building a robust integration ecosystem, thus ensuring critical business continuity for almost 2 decades now with a team size of 350+ employees dedicated to serving over 100 clients in their digital transformation journey.
Our deep industry expertise puts us in a unique position to help use the right technology to address the most complex and critical challenges—whether it's through faster cloud migration, getting the most value out of the top technology platforms, making the most of your data through applied intelligence, or underpinning everything you do with security.
Eastern Enterprise co-creates and co-innovates solutions that help organizations connect better with their customers, improve resilience, and drive sustainable growth.
Visit  www.easternenterprise.com to see how Eastern Enterprise can help empower your organization with technology.
EE is proud to announce that it has forayed into the Proptech vertical which is an upcoming sector in today's times. Still in the nascent stage, this vertical has immense potential to disrupt the traditional real estate industry and create a whole new playing field.
5 of the top proptech trends to look out for according to industry experts are AI, machine learning, IOT,Blockchain and geolocations. EE has successfully delivered MVPs in the proptech space for clients across Holland and Germany. These range from landlord-tenant platforms to software solutions for sustainability and green buildings.
About Eastern Enterprise
EE is a technology service provider for mid sized companies and technology startups.It provides seamless digital services to a spectrum of clients across various verticals, geographies and technologies. With a skilled talent pool of 250+ employees and mature quality processes, EE has helped clients worldwide to leverage and transform themselves digitally.